Secure Reliable Transport (SRT)
SRT
More Reliable Streaming with SRT
Does Your Stream Pixelate or Buffer?

Streaming RTMP over unreliable, low-bandwidth networks can cause issues. With dvCloud, you can now replace the RTMP protocol with SRT, which will fix most streaming issues you may have.
dvCloud
Essentials
$49 / Month

dvCloud
Professional
$99 / Month

SRT Compatible

Full input and output support of SRT protocol for reliable streaming

Cloud Recording

Amount of expandable storage for recording in the cloud

No
Streaming Platforms

Number of simultaneous streaming destinations

10
25
Streaming Per Month

How many hours of streaming per month

Unlimited
Unlimited
Live Sources

Number of stream sources / channels

2
10
Why Use SRT

SRT is better than RTMP because it handles problematic networks more efficiently. It requires less bandwidth, and it solves data errors faster. As a result, your viewers will experience a better stream, with less buffering and pixelization.
---
Real Time Statistics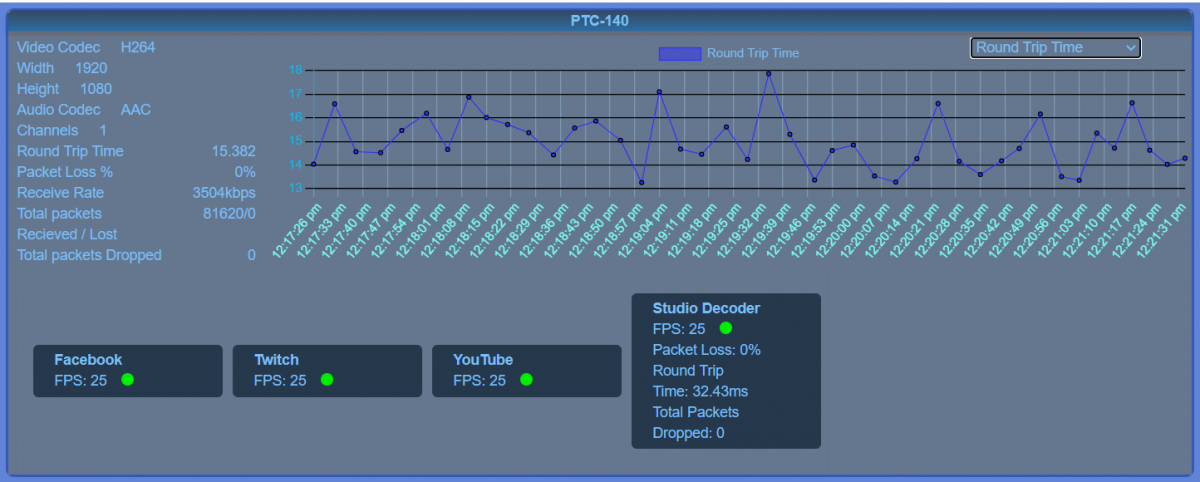 dvCloud provides powerful real-time statistics for all video sources and destinations so you can be sure every frame reaches its destination:
Monitor your video sources and be sure every frame makes it to the cloud
Leave nothing to chance, check your networks performance and adjust your streaming settings before you go live
Monitor your NVD-3X MARK II decoders and be sure every frame makes it to the decoder
Monitor your streaming destinations in real time with our easy-to-use traffic light system
All statistics are graphed, you can see the previous 10 minutes statistics
---
How to Take Advantage of SRT

Datavideo encoders and dvCloud provide reliable streams over unreliable networks. By using a Datavideo encoder and dvCloud together, you can utilize SRT (instead of RTMP) on the initial problematic connection or "First Mile."
After your video stream reaches dvCloud, you can depend on dvCloud's reliable, high-bandwidth network to deliver the stream to your favorite destinations, like Facebook and YouTube.
---
SRT-Ready Encoders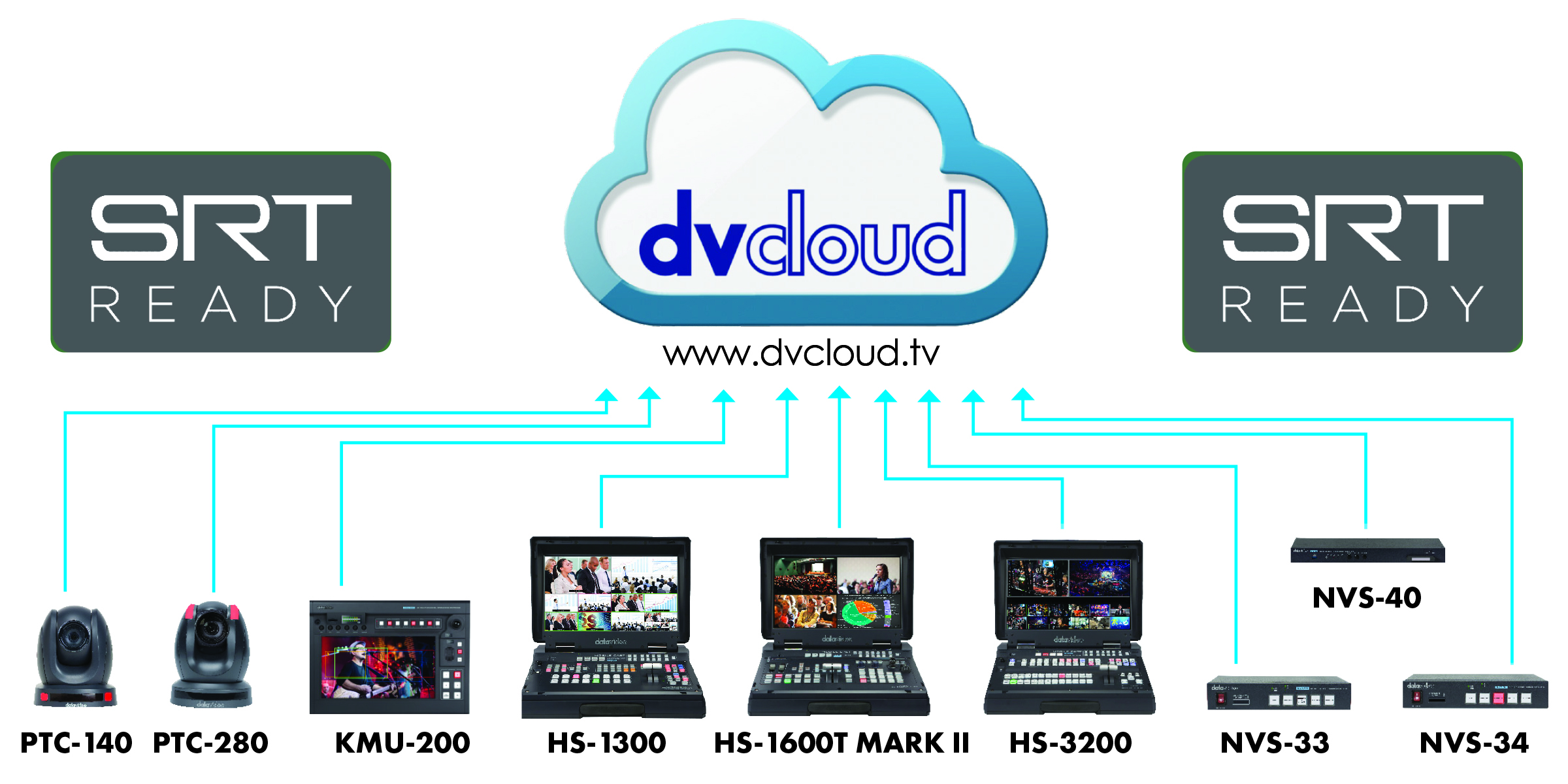 The encoders, cameras, and hand-carry switchers above are ready to be used with dvCloud for SRT streaming. For more information about a specific product, please visit the encoders page or the cameras page or the Mobile Cast Studios page on the Datavideo website.
---
Complete Pre-Configured Solution for SRT Streaming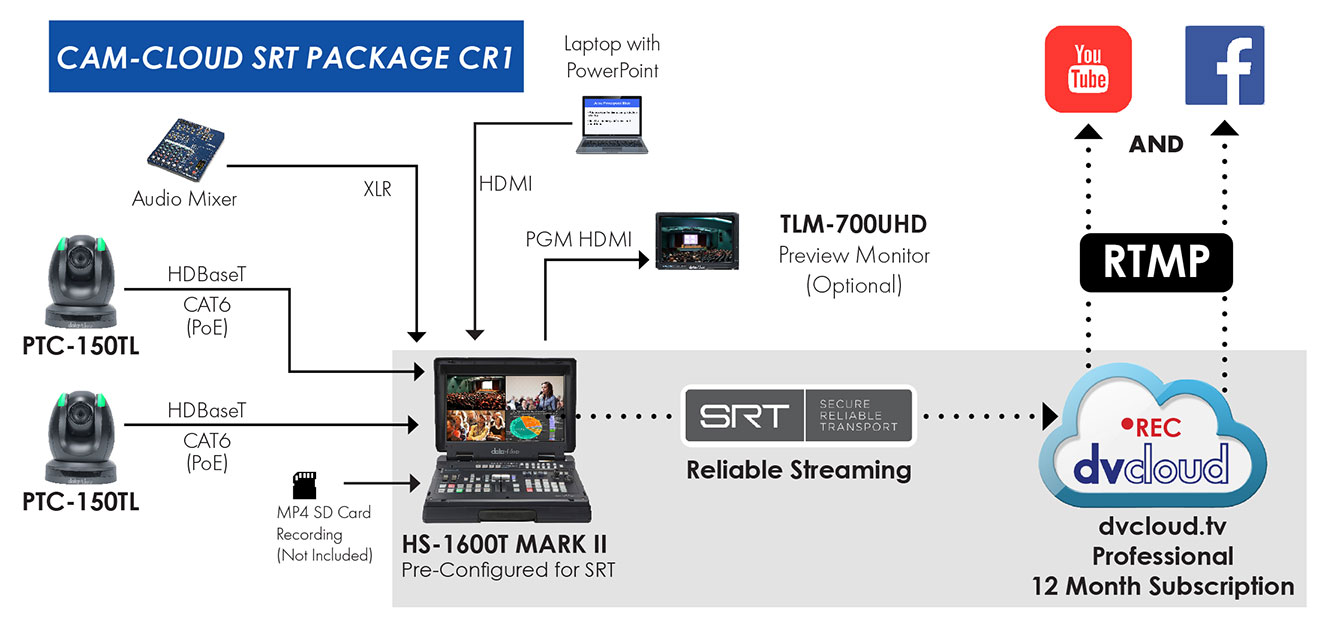 Datavideo provides end-to-end solutions for producing a reliable stream using SRT. Visit the Cam-Cloud SRT Packages Page for more information. Alternatively, you can download a PDF of the SRT Packages or the SRT Packages One Sheet.